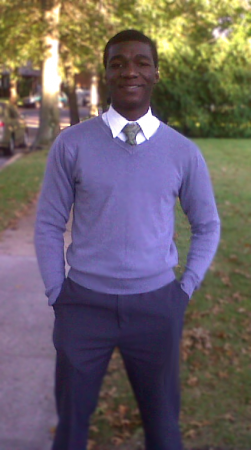 My name is Eyram. Nice to meet you!
I'm 25, live in New York, and I'm a mechanical engineer currently working at my dreamed job!
What could be cooler than getting everything you've dreamed of? Tons of stuff, actually.
However, things weren't always that smooth.
My Story
When I first started college, I wanted everything when I got out: a good job, tons of connections, and GPA I could be proud of.
Unfortunately, I got none of those. I was forced to live on free food and a $3 lunch budget so I could buy my monthly $104 Metrocard (which is a subway/bus card for those who don't know). Tuition wasn't getting any cheaper either, so all my work study money went into that after the Metrocard AND I had a 3-hour commute between my house and school ever…single…day.
Despite all the inconvenience, I was still a very optimistic guy.
So, I decided to work hard to obtain what I needed to get ahead.
And thanks to my hard work, I was able not only to obtain a good paying job when I got out, but also valuable connections in the engineering world.
What You Will Learn
The reason behind my success isn't that I was smart or knew what to do, but rather that I worked hard at improving my RESUME, SKILLS, and NETWORK. And I want to help you too!
Everyone needs a job. Everyone also needs to feel satisfaction in what they are doing. Therefore, in order to achieve them, you need effort.
This blog was created to provide all the tips, strategies, and opportunities I used to get ahead for students and professionals who were (or are) just like I used to be. I want you to have the ULTIMATE resource to go to when you having trouble with your resume, improving your skills, marketing yourself, or just need some advice to move forward.
How will this be done? Simply through the following:
Posts: I'll be writing about everything you can imagine – from how to write a resume from scratch to how to create your very own internship. You'll only be more excited each time something new comes out!
Scholarships: I've applied for around 500 scholarships throughout school. I got one. But, that $2500 paid for the rest of my school. I'll be sure to teach you effective ways on applying, getting, and helping others to receive scholarships (There is a strong possibility that I might even give one!).
There's a lot more I have planned (like videos where I'll highlight simple steps on how to conquer interviews, build your network, and even have plans to interview HR professionals of some of the top companies!), but we can't spoil all the fun 😉
All and all, treat this site like your diary. I really want to see others do well and grab those jobs out there because there are tons for the taking!
I can't tell you the number of times I've seen people (who are way smarter than me) graduate with nothing but a *shake my head* moment and the words "master's degree" come out their mouth. You won't be one of them.
What You Need To Do
With the knowledge I've learned (and will be learning), I want to clearly highlight what it takes to be a +engineer or an engineer who always goes beyond to make positive things happen. I hope you will enjoy all the content that I provide for you and use it to become better engineers in your respective fields.
As a startup, I hand picked these posts for you:
Just keep in mind, it will take lots of hard work and determination to get there. If you are ready for that, you'll be well on your way becoming a pro… and teach others to do the same.
I want to write tons more, but we only have so much space to write.
Therefore, I'd like to get to know everyone that reads my content. Please feel free to leave me a message, either using the ways below or the contact form on the "Contact Me" tab.
You can also subscribe to my exclusive newsletter (You'll get a special gift!) by just leaving your email below. Don't worry, it's free 😀
Keep Me Posted on Your Success!
– Eyram
LinkedIn – Join our group and learn how to be a LinkedIn Pro!
Facebook – "Like" Us if you think we're cool
Twitter – Follow Us!